Staff
Our dedicated staff members are here to provide support, compassion, and information to help you through your journey of grief and the celebration of your loved one's life.
Servies & Morgan Funeral Home - Roachdale, IN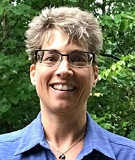 Jai Miranda
Certified Grief Counselor
Honoring a lifetime call to support the wellness and well-being of others, Jai Miranda is a grief companion and end-of-life educator. For more than 20 years, Jai has been supporting individuals and families as a professionally certified coach. Jai's gentle approach combines the power of storytelling and science-based practices in a mindful approach to life and death.
Jai is a staff counselor at Dusk to Dawn Bereavement Services and owns Quest for Balance Wellness, both in Crawfordsville, IN. As a Putnam County resident, Jai is active in the community serving on the Mental Health America of Putnam County Board of Directors, as a Volunteer Chaplain for Putnam County Hospital, and as founder and past president of the Putnam County Hospice and Palliative Care Association.
Jai maintains professional credentials including Professional Certified Coach through International Coaching Federation, Certified End of Life Coach through Coaching at End of Life, and a Certified Yoga Teacher through CityYoga in Indianapolis. Jai also earned a Master of Music in Piano Performance from Indiana University. An avid runner, Jai enjoys finding new trails in state and local parks.